Note: This information is subject to change. Please check back frequently. Last updated July 7, 2004.
Purpose
The purpose of the France 2004 tour is to go into the villages around Carcossonne with a group of musicians ready to play and sing, and to seek to in some way by the language of music touch the heart of those who stop to hear us.
We will invite those who are interested to follow us to a large concert at Trèbes (5 miles east of Carcassonne) at the end of the week. Then on Sunday we will end with a worship service in Trèbes, in support of the planting of a new church in that town.
We will also be worshiping on the first Sunday that we are there with a small church in Castelnaudary, 20 miles west of Carcassonne. They are planning for us to lead the whole service.
The musicians will include a select group from Charlotte, and a worship band from a church in Montreal. We will be prepared to present classical, jazz, gospel, cajun, and contemporary praise and worship.
The France 2004 tour is the first La Clef tour, and will be a "pioneer" effort. We have never done this before, and we are figuring everything out as we go!
The band's name, Pete Pitre
One aspect of our strategy is to draw upon the fact that the Acadians (Cajuns) and the Quebecers are decendants of France. We are coming back to the Motherland to reestablish a relationship through which we can communicate the love of Jesus and the message of salvation.
The name comes from Greg's grandfather in southwest Louisiana, who was named Léonard Pitre. English speakers just called him Pete, and the name Pitre was also pronounced "Pete" in that region, so he was often called, "Pete-Pete". We have adopted the name Pete Pitre to draw attention to the English-French tension experienced by those of French-speaking ancestry who live in North America.
Location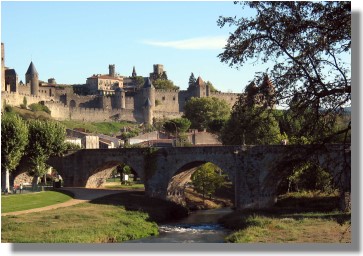 Carcassonne
Carcassonne is a medieval fortified city with a long history. It is a European tourist destination, but not very well known to North Americans. It is in the extreme South of France, about 50 miles from the Spanish border and 35 miles from the Mediterranean coast.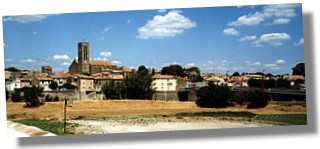 Trèbes
Note: Trèbes is pronounced "Trebb".
Trèbes is a small farming town (6500 inhabitants) that traces its origins to 4,500 b.c.
Castelnaudary calls itself the international capital of pork and beans -- but they take it to a whole new level. Be prepared to be enlightened. In French it is called Cassoulet, and is a baked dish like nothing you have ever tasted!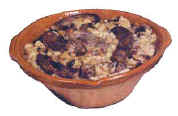 Itinerary
We will be flying on Lufthansa, leaving North America on July 19th and arriving in France on July 20th. The Charlotte team will be traveling via Munich, and the Montreal team will travel via Washington and Frankfurt, all arriving in Marseille (pronounced Mar-say). Note: the Hardees plan to arrive one week ahead, and the Dudecks plan to also arrive early and go to Switzerland for a few days before the rest of the group arrives.
Upon arrival we will get three rental minivans and travel to the home of Alain and Christiane Soudrain in the town of Orange, about 50 miles from the Marseille airport. We will spend two nights there. Alain will be orienting us to France and what to expect on our tour. On the 21st we will visit Le Musée du Désert, a museum on the history of the persecution of Christians in the region, and will learn more about the spiritual background of the people. We will return to the Soudrains, and on the 22nd go to Carcassonne and get settled into the youth hostel and rooms where we will be staying.
Details of the concerts in the villages surrounding Carcassonne are being worked out. Greg Hardee and his family and Caleb Gagnon will arrive in France a week ahead of everyone else, and many of the details will be finalized then. Here is what has been planned:
July 23 : Pennautier : 9 pm (refreshments offered)
July 24 : Rieux Minervois : 9 pm at the boulodrome (lawn bowling arena)
July 25 : Castelnaudary : worship + picnic with the church + evening concert at 9 pm
July 26 : Open - to be determined
July 27 : Open - to be determined
July 28 : Open - to be determined
July 29 : Caunes Minervois : 9 pm
July 30 : Puichéric : 9 pm
July 31 : Large concert at Trèbes Arena
August 1 : Trèbes : worship in a meeting hall or Trèbes Arena – message given by Adam Short? – lunch with the church group – go to Alain Soudrain's
August 2 : Go to Marseille to catch very early flight at 6:45 am.
Each day there will be time for prayer and preparation, rehearsals, going out to the villages to put up posters and announce the concert, etc. There will also be a time of debriefing each day, to try to gain understanding of the cross-cultural issues we encounter.