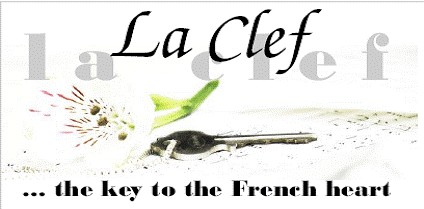 Volume 1. Issue 1. 2006
The French are coming! The French are coming!
Alain Soudrain, the SIM Director for France, has volunteered to pay a visit to North America in order to promote La Clef's activities and vision for France. WOW! The visit would bring him to Charlotte, then hopefully on to Montréal and Calgary. The tentative dates are for the 25-29th of September. We need help with getting him here. Any air miles, any buddy passes, any suggestions?
Charlotte - The La Clef council continues to meet. Our relationship with Charlotte Christian School is widening. We see the campus as a neutral location to hold a La Clef presentation for the wider Christian community here in Charlotte.

Greg is looking to visit Montréal soon for three weeks of intensive language study, We have been talking and praying about this for a year, and it looks like things are falling into place for him to be able to take a three week course starting in August. There are issues that need to be resolved in order for this to happen. The biggest obstacle was his need for earned income that would be lost while away from work. It appears this might be resolved by him getting a consulting contract that will be sufficient to cover his needs.

There remains the cost of his expenses, such as the cost of the course, meals, and the cost of travel to and in Montreal. We estimate a total of $1400-1600 max, depending on whether he flies or drives.

We are suggesting that we propose to Steele Creek Church a missions project to pay these expenses from contributions.

France - With Alain Soudrain at the helm, we laid the groundwork for a future tour in France scheduled for 2007! We were very encouraged to meet with some very precious and courageous pastors. (click here for more info, http://www.laclef.org/France2005/index.html)

The Church in Carcassonne is Growing!!!

France - Greg, John, Caleb and Adam visited France this past October. The NEWS!!! With big smiles Jan Koning, the pastor announced that the church in Carcassonne is growing! Carcassonne? Wasn't the church planted in Trèbes? Wasn't Carcassonne considered too spiritually hostile?

During our Summer 2004 Tour we were involved in encouraging a church plant in Trèbes of 10 people! We fanned out across the region over a two week period spreading enthusiasm for a final Saturday night concert in Trèbes, where we then invited all of those in attendance to join us the next morning to discover more about our faith. The only ones there were 18 of us and the ten from Trèbes. It was a sobering moment as we turned our focus from evangelizing the hoped for crowd to encouraging the ten who would be left behind as we prepared to leave. We felt bad, even disappointed. I remember Jan saying, "It's not my church. It's not your church. It's His church."

His October NEWS!! After we left 5 of the original10 also left. Apparently they were sort of legalists who did not flow well with our freedom or our presence, both of which helped in their departure. And then……….. the church began to grow, somewhere around 30 people, and not even in Trèbes, but in Carcassonne!! Bless the Lord, who does more than we can ask or imagine!!
Adam has Arrived! JO has Arrived?
France - After eight years of longing for this moment, Adam Short has finally arrived on the ground in Marseille, France. To learn more about Adam and his ministry there please visit his website, http://www.shortadam.com.
The Lord is doing much, but one key story is that Adam has once again hooked up with JO in France. JO was truly our beggar at the gate of Carcassonne. It looks like JO will head to Marseille soon. He has told Adam that our in France time during the 2004 Tour demonstrated to him a love and power that he has never seen and that continues to call out to him. He is coming to the end of a meaningless journey and he wants to learn how to follow Jesus.
Heal the beggar and all the town will know the power of the Lord. At the time that we were there our posture was this; "If God can't touch JO, then we should all be nervous." JO was not then a project nor a side project, but the Lord is revealing himself to JO. So be it Lord!!

La Clef Montréal Continues to Thrive!!
| | |
| --- | --- |
| Montréal - "La Clef Presents...", La Clef presents who? Things are changing. The team is developing different acts and stage names with "La Clef" acting as an umbrella. Check out Phän and Stars Keep Company. | Montréal – The Québec team has been writing, creating, praying, and playing on a regular basis. Some amazing opportunities have been opened due to people enjoying past performances. The team is preparing to record a couple albums with different "La Clef groups" and are very excited about what the Lord is doing and what the future holds. |
Enfin (Finally) !
La Clef continues to move forward on several fronts; performances in Montréal, plans for France, extended opportunities for development in Charlotte and a possible outreach to Calgary. Because we are mainly a group of artists we aren't very organized. But our passion has taken us far. If you want to serve this need and make us better, contact us.
We also believe and know that there are those who are ready to support the work of La Clef because the Lord has already, through a French connection, placed this burden in their hearts. If that is you or someone you know please try to put them in touch with us.
USA contributions
In the USA please make your check payable to "Steele Creek Church" and send it to:
Steele Creek Church of Charlotte
1929 W. Arrowood Rd
Charlotte, NC 28217
Please indicate that your contribution is for "La Clef".
Be sure to include your name and address so that we can send you a tax-deductible donation receipt.
Canadian Contributions
Canadian contributions can be made to "Eglise Alliance Chretienne & Missionnaire" and sent to:
Eglise Alliance Chretienne & Missionnaire DDO
220 Hyman Drive
Dollard-des-Ormeaux, Quebec
Canada
H9B 1L8
Mark your gift: "Attention: La Clef".