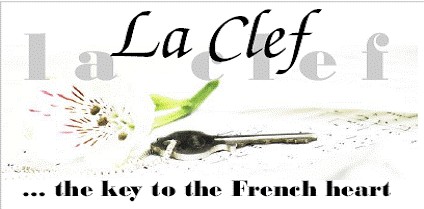 Volume 1. Issue 2. 2006
Things are heating up!
Soudainement (Suddenly) there is a lot of activity around La Clef!
Ideas that have been expressed over the last months are coming around and boy, are we feeling the edge! The details are just now coming into focus with huge implications for the next few weeks, which means that:
We are praying that the following come to pass
And if it does we have so many exciting needs and concerns
So hop in with us as the Lord once again begins to activate the key!
Fall '06 – The Canadians are Coming!

We are so excited to host Teresa Tracey from Montréal's Emmanuel Christian School. She will be "attending," and sharing with Charlotte Christian School and the Charlotte community. This is another step in creating an awareness in the Charlotte area concerning the deep needs among the Christians in Québec. Bless the Lord, Teresa's plane fare is covered; only details remain.
Fall '06 – The French are Coming!
| | |
| --- | --- |
| | Alain Soudrain, SIM France Director, is due to spend 12 days in North America with major stops in Charlotte, Calgary, and Montréal. This is a very important step for La Clef because he has volunteered to come and promote the vision for La Clef in Europe and to help us raise support for the France 2007 Tour. |
Charlotte – A first for the La Clef Council and our network of leaders and fellow supporters in Charlotte to meet and to hear straight from the man who is our covering in France.
Plan to join us for a La Clef France 2007 Tour Presentation and Reception. Details will follow soon.
| | |
| --- | --- |
| Calgary – This will be a groundbreaking trip to explore La Clef's Calgary connections through our deep relationship with Barry Whatley, mentor, former missionary to Québec and professor of missions at Rocky Mountain College, whose students have participated in our annual winter Montréal gatherings where we lift up the Lord's heart for Québec. Many have been unsuspectingly impacted by the profound reconciliation that has happened between our French and English Canadian brethren. They have invited us to share the full measure of that impact with an inaugural La Clef visit to Western Canada. | |
Montréal – A time for the La Clef Montréal team to re-unite with Alain after the La Clef France 2004 Tour and to introduce Alain to the wonderful people and leaders that we know in Montréal.
Winter '07 – Our Annual La Clef Montréal Winter Conference
Montréal - For the past several years La Clef has brought young people together in Montréal in the month of February. Small groups from Calgary, AB and from Charlotte, NC meet together with La Clef Montréal through various events, with the purpose of exposing the needs and opportunities for sharing genuine Christianity in Montréal. If you want to learn about and see what we really do, this is for you. Please feel free to join us and take a look.
Learn more about last year's conference at: http://www.laclef.org/Montreal2006/img/index.html
or Contact: GBHardee@laclef.org.
Summer '07 – La Clef France 2007 Tour
| | |
| --- | --- |
| | Southern France - The Lord has continued to lay the groundwork for a tour in Southern France next summer. That would make it three years since the last tour, which is too long, except that we are still processing all the Lord did two years ago. We are definitely in training for the long haul. We will make details available later. |
The Team
| | |
| --- | --- |
| | Brendan Hardee – He finally has his open-ended work permit for Canada, which according to Brendan is one more step towards being "official". To quote from his recent report, "Because of that I decided to start working a couple mornings a week at a local coffee shop so that I would be in more contact with nonbelievers". |
| | |
| --- | --- |
| | Frankie Martinez – Stars Keep Compagnie (a musical group that is part of La Clef) has just recorded the « Dreams Are Brief » E.P. If you would like to check out a couple of their tunes visit http://www.myspace.com/starskeepcompany. They are hoping to create awareness about needs on the streets, donate proceeds to those working with the homeless and invite others to get involved with caring for the urban poor. |
| | |
| --- | --- |
| | Stéphanie Blanchet – Phän is looking into a government-sponsored grant that helps promote Québécois artists through funding recording projects. |
Enfin (Finally) !
Our most urgent need is to bring Alain here and to facilitate the travels around this visit, which include his flights to North America and Greg and Alain's flights to Calgary and Montréal. We need to purchase these tickets in the next two or three days. We ask you to join us in praying for his time here and hope that you will consider helping to meet this need.
For those of you who are interested in contributing to this need, you may also support La Clef by giving travel award tickets. If you have points in your American Express account or any airline frequent flier account, you can offer to purchase a roundtrip airplane ticket for any of the La Clef team members. For details concerning how you may be able to help in this way, please contact Lisa Hood at 704-752-0552 or hmandhmom@aol.com.
USA contributions
In the USA please make your check payable to "Steele Creek Church" and send it to:
Steele Creek Church of Charlotte
1929 W. Arrowood Rd
Charlotte, NC 28217
Please indicate that your contribution is for "La Clef".
Be sure to include your name and address so that we can send you a tax-deductible donation receipt.
Canadian Contributions
Canadian contributions can be made to "Eglise Alliance Chretienne & Missionnaire" and sent to:
Eglise Alliance Chretienne & Missionnaire DDO
220 Hyman Drive
Dollard-des-Ormeaux, Quebec
Canada
H9B 1L8
Mark your gift: "Attention: La Clef".
Sincerely,
Greg Hardee and the La Clef team